Contact
Please use this answer-phone service to contact our office. You can also make contact with specific Councillors via the phone / e.mail details on <Councillors>
E.mail
Please use
to send a message.
It will either be replied to directly or acknowledged & forwarded to the appropriate person.
Fax
Yes; we still use the jolly-old fax – it cannot be hacked the way these new-fangled systems can. Our number is 
Our 'Heart-in-Hands' logo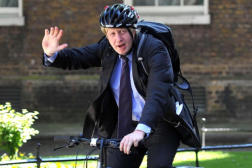 That's what we're told .. but, protect from
what ?
For a start .. from UK governments (!)
who, from 1948, when there were 10 beds
per 1,000 of population, have reduced
NHS capacity to just

1.9 beds

per 1,000.
Contrast that to Japan which has 13, and
Germany eight, and France six.
No wonder they're so easily over-run.
Almost
three times as many under
60s
died in road crashes last year
as those
without health conditions
killed by coronavirus,
NHS data shows.
Severe acute respiratory syndrome
coronavirus 2 (SARS-CoV-2)
could
increase
current nation wide
suicide deaths
from 3000
to 3750–4500
per annum over
the next 5 years
according to The Lancet [Psychiatry]
GB vaccinations compared to EU
The slow French rollout is being blamed on
mismanagement, end-of-year staffing shortages,
and a complex 45-page consent policy.
60 % of the French population say they don't
intend to get a jab, according to the latest poll !
Independent Community & Health Concern
Boris Johnson revealed new lockdown restrictions in an address to the nation from Downing Street.
The spread of the new variant of Covid-19 has led to rapidly escalating case numbers across the country," Official spokesman. "The Prime Minister is clear that further steps must now be taken to arrest this rise and to protect the NHS and save lives."
He warned that there are" tough, tough" weeks ahead and confirmed that Lockdown would continue until March.
The first lockdown (last March) put the UK in level 4.
The UK is now in Alert level 5 –
"a material risk of healthcare services being overwhelmed"

the virus is in general circulating
transmission is high
In Scotland,
schools

will

be

closed

to

almost

all

students

until

at

least

February 1

st

people may only leave their homes for essential reasons

can meet outdoors in groups of just two

may not travel in or out of Scotland except for essential purposes.
Measures will include are turn to shielding, further school closures– possibly until February half-term–and stronger" stay at home" messaging.
__________________________________________
Michael Gove  confirms GCSE and A-level exams are definitely cancelled(ministers are considering contingency plan to allow students to sit English and Maths in small groups over several days this summer).
All primary and secondary schools will close with immediate effect, remaining open only for vulnerable pupils and the children of key workers, planning to reopen after the February half-term break. Universities &colleges will also remain closed to students until mid-February.
For further information, go to <Virus News>
Download the complete government regulations
Pub and restaurant owners in Worcestershire have spoken of their dismay at being given just a few hours 'notice of being told  to close with just eight hours to sell food and drink bought in for the end of year celebration, leaving them thousands of pounds out-of-pocket.
The announcement by Matt Hancock at 3pm on Wednesday(December 30) that hospitality venues must close before New Year's Eve gave rise to 'Frustration and Anger' as Worcestershire restaurants and pubs given just hours' notice of NYE closure when hoping to recoup some money on New Year's Eve – but Tier 3 announcement scuppered their plans.
STATISTICS
as per
8
th
January 2021
of LOCKDOWN UK
Persons tested
55,378,721       
Positive tests (to date)       
2,889,419
Mortalities:                   
82,624         
UK Deaths (per day)           
1,162
People vaccinated – 1st dose
1,296,432
(as of 3 January 2021)
Worcestershire cases
18,552       
Worcestershire deaths
463
Wyre Forest cases
3,270       
Worcester City cases
3,220
Wolverhampton cases   
14,883       
Sandwell cases
19,699
Dudley cases
16,511         
Birmingham cases            
62,405
Patients in Worcestershire who died were aged between 47 and 99 years old.
All had known underlying health conditions
.
The Acute Hospital Trust covers Worcestershire Royal Hospital, Evesham Community
Hospital as well as the Alexandra Hospital in Redditch and Kidderminster Hospital.
Celebrities beware!
Moderna vaccine can cause swelling in people with
facial fillers, dermatologist warns!
Anyone with cosmetic facial fillers could experience swelling and
inflamation, according to experts,
after several US trial participants faced side effects
The Premier Independent political party in Wyre Forest
The Wyre Forest area of north Worcestershire is the home of independent political thought – having been represented in Parliament for two terms (ten years) by the Independent M.P. Dr. Richard Taylor M.B.E.
Representing Wyre Forest people
The party works at Wyre Forest District and local Town and Parish levels with Councillors on the Bewdley, Kidderminster and Stourport-on-Severn town councils.
Not just a 'Single Issue' party
As is reflected in it's title, Independent Community and Health Concern is NOT just a 'single issue' grouping of independent representatives of the people; taking on-board all manner of local problems (and solving them) and local aspirations (and aiding in their delivery). It grew out of the projected closure of Kidderminster Hospital (to which so many had contributed with fund-raising). This prompted mass protest and street parades and, ultimately, the rejection of the sitting Labour MP – a junior Minister. While I.C.H.C. remains fundamentally concerned with the provision of health facilities and the delivery of all that results in 'good health' it is associated with concern for all aspects of a healthy community – education for all ages, support for the disabled and the elderly, transport, arts and entertainment, nature and the environment.